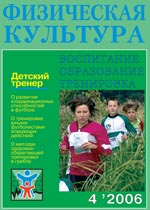 Scientific-Methodical Journal of Russian Academy of Education, Russian State University of Physical Culture, sport and touring
Bulletin of Problem Counsil on Physical Culture of Russian Academy of Education
Journal was founded in 1996
© Редакция журнала "Теория и практика
физической культуры"
105122 Москва,
Сиреневый б-р, 4.
тел./факс:
(499) 166-53-16
E-mail: teoriya@teoriya.ru
При перепечатке ссылка на журнал обязательна
Реклама:



CONTENTS | СОДЕРЖАНИЕ
THEORY OF EDUCATION
I.V. Manzheley
- Pedagogical Models of Physical Education

E.M. Ag-ool
- Basic Contents of Program on Physical Education for 9-11th Classes of Republic of Tyva on Basis of Traditional Motor Activity
PHYSICAL EDUCATION: ETHIC VALUES
V.A. Golov
- Physical and Sports as Preventive Means in Work with Young Delinquents in Republic of Komi

A.I. Babakov, L.V. Loginov
- Research of Problem of Education and Self- Education of Children and Youth with Predispositions to Use of Drugs During Sports Occupations and Tourism

Yu.A. Gorbunov
- Pedagogical Technology of Formation of Strong willed Activity of Person in Process of Physical Education
HEALTHFORMING TECHNOLOGIES OF PHYSICAL EDUCATION
I.N. Timoshina, L.A. Parfyonova, I.M. Kuptsov, E.A. Ostrovsky
- Principles of Building Special Medical Groups in General Educational Establishments

E.A. Korotkova, I.V. Penkova
- Principal Provisions of System of Preventing of Musculoskeletal Disorders of Children in Course of Physical Education

S.D. Antonyuk, E.Yu. Mukina, V.N. Yakovlev, D.V. Ivinsky, M.A. Shut
- Formation of Health Culture at Children with Special Educational Needs
METHODICAL BOONS
CHRONICLE OF SIGNIFICANT EVENTS
L.I. Lubysheva
- What Kind of Physical Education is to be at School?
"CHILDREN COACH" - journal in journal
Z. Witkowski, W. Ljach

- Coordination Features in Soccer: Diagnosis, Forecast of Development, Training

B.G. Chirva
- Organization of Game Exercises with Connivent Goals for Training in Young Soccer Players of Attacking Actions in Penalty Area

N. Demchenko, E. Golovikhin
- Positive Correction of Personal Aims in Young Athletes if Group of Sports Improvement and Initial Training in Kekusin Karate

Yu. Plekhanov
- Take Care of Your Hearth when You are Young
---