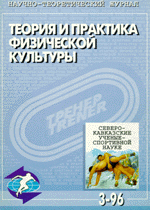 Ежемесячный научно-
теоретический журнал
Государственного Комитета Российской Федерации по физической культуре спорту и туризму
Российской Государственной Академии Физической Культуры
СпортАкадемБанка
Основан в 1925 г.
© Теория и практика физической культуры
105122 Москва,
Сиреневый б-р, 4.
тел./факс:
(499) 166-53-16
E-mail: teoriya@teoriya.ru
При перепечатке ссылка на журнал обязательна
Реклама:



CONTENTS SPORTS SCIENCE OF THE NORTH CAUCASIAN REGION

Chermit K.D., Yu.N. Jarimok, A.P. Turchyn
- Sociological Fundamentals of Coming to the Managing Decision when Forming Healthy Life Style by the Means of Physical Culture (on the example of Adygei Republic)

Kriunov V.A.
- The Science to the Favour of Physical Culture

Chermit K.D., L.K. Mamgetova
- The Opportunities of Human Development Harmony's Determination (the Way a Problem is Stated)

Koblev Ya.K., N.Kh. Khakunov
- The Institute of Physical Culture and Judo in Adygei State University - the Quest for New Ways

THEORY AND METHODICS OF TRAINING IN VARIOUS SPORTS

Loktev S.A., M.G. Stryukov
- The Problems of Organization in the Young Middle Distances Runners' Competitional System

Klimova T.M., V.M. Kuprin
- Special Physical Preparadeness of Women Athletes in Classical Parachute-jumping

MEDICO-BIOLOGICAL PROBLEMS OF THE SPORTS TRAINING

Kudayev E.A.
- The Linear Dimensions of Heart in Boy's and Youth's Ontogenesis when Different Levels of Motor Activity

Cherkesov Yu.T.
- How to Render Sports

Grischenko N.A., V.M. Kruchinin
- The Acute Pathological States in the Conditions of High-mountain Ascents

Alexanyants G.D.
- Medical Problems of Sports for Children Physical education of children and youth

PHYSICAL EDUCATION OF CHILDREN AND YOUTH

Bersirov B.M., K.Yu. Mamgetov
- The Cooperation of National Education's and Health Services Bodies in the Schoolchildren' Health Preservation (Problems and the First Decisions)

Nabokova Sh.K.
- The Influence of Outdoor Games on Some Psycho-physiological Peculiarities of the Six Years Aged Children

Kojeshau M.Kh.
- Factors, Determining the Students' Physical Culture and Sports Activity

SCIENTIFIC LIFE

FROM EDITORS' PAPER-CASE

"TRENER" (coach) - journal in journal

Srebnitskaya D.
- "The Hard Politician"

Losavio G.
- Think it Over, First, then Work by Oars

Shelukhin A.
- "Surprises from Moskvina"

Rubin V.
- The Strategy of "Fighting Trim"

---

СОДЕРЖАНИЕ
---
ABSTRACT
This issue of our journal is prepared to order of Adygei Republic's Ministry of social guarantee and national education. it is dedicated to the problem of sport science's development in Adygei Republic and in other parts of the north caucasian region.
The issue opens with the section "Sports Science of the North, Caucasian Region" The first article of this section represents the results of sociological research by K.O. Chermit et al., touching problem of coming to managing decisions when forming healthy life style with a help of physical culture's means and opportunities. This research was performed with a help of Adygei's governmental structures. The strategy of cooperation between science and physical culture organization's officials in Stavropol Krai is discussed by V.A. Kriunov - the chief of Stavropol Krai Committee on Physical Culture and Sports. Ya.K. Koblev and N.Kh. Khakunov aquaint a reader with the new highest physical culture institution in Adygei State University. The fundamental problems of human development's harmony are discussed in the article by K.D. Chermit and L.K. Mamgetova.
The "Theory and Methodics of Training in Various Sports" section represents materials about the sports competitions system for young athletes and about the physical preparadeness of women athletes in classical parachute-jumping
Medical problems of sports training, including spoils for children and negative sides of elite sports are discussed in the section "Medico-biological Problems of Sports Training".
B.M. Bersirov and K.Yu. Mamgetov report about their experience in organization of the cooperation between national education and health service bodies to preserve the school-children' health, opening the section "Physical Education of children and youth". Sh.K. analize the influence of outdoor games on six year aged children and M.Kh. Kojeshau discusses the role of various factors, determining the students' physical culture and sports activity.
The usual information about different events of scientific life in Russia is published in this issue.
---